You can rely on Doodie Calls to provide you with clean portable toilets and fast, reliable service. Our standard portable restrooms are comfortable, well ventilated, completely private and can be delivered directly to your location within 24 – 48 hours. Same day delivery is available upon request. At Doodie Calls, we pride ourselves on being your run-to for all sanitation solutions in Florida and the surrounding regions.
All portable units are thoroughly inspected prior to delivery. Before a unit leaves our lot, it is examined to ensure that all of the mechanics are in working order and that all aspects of the unit are thoroughly sanitized.
Construction Rental Units
Construction Units are designed to withstand the tough day-to-day life on a construction site. Each unit is serviced once a week and stocked with two rolls of toilet paper during each service. We offer fast & friendly setup and services, jobsite, or commercial project throughout 34 counties state-wide.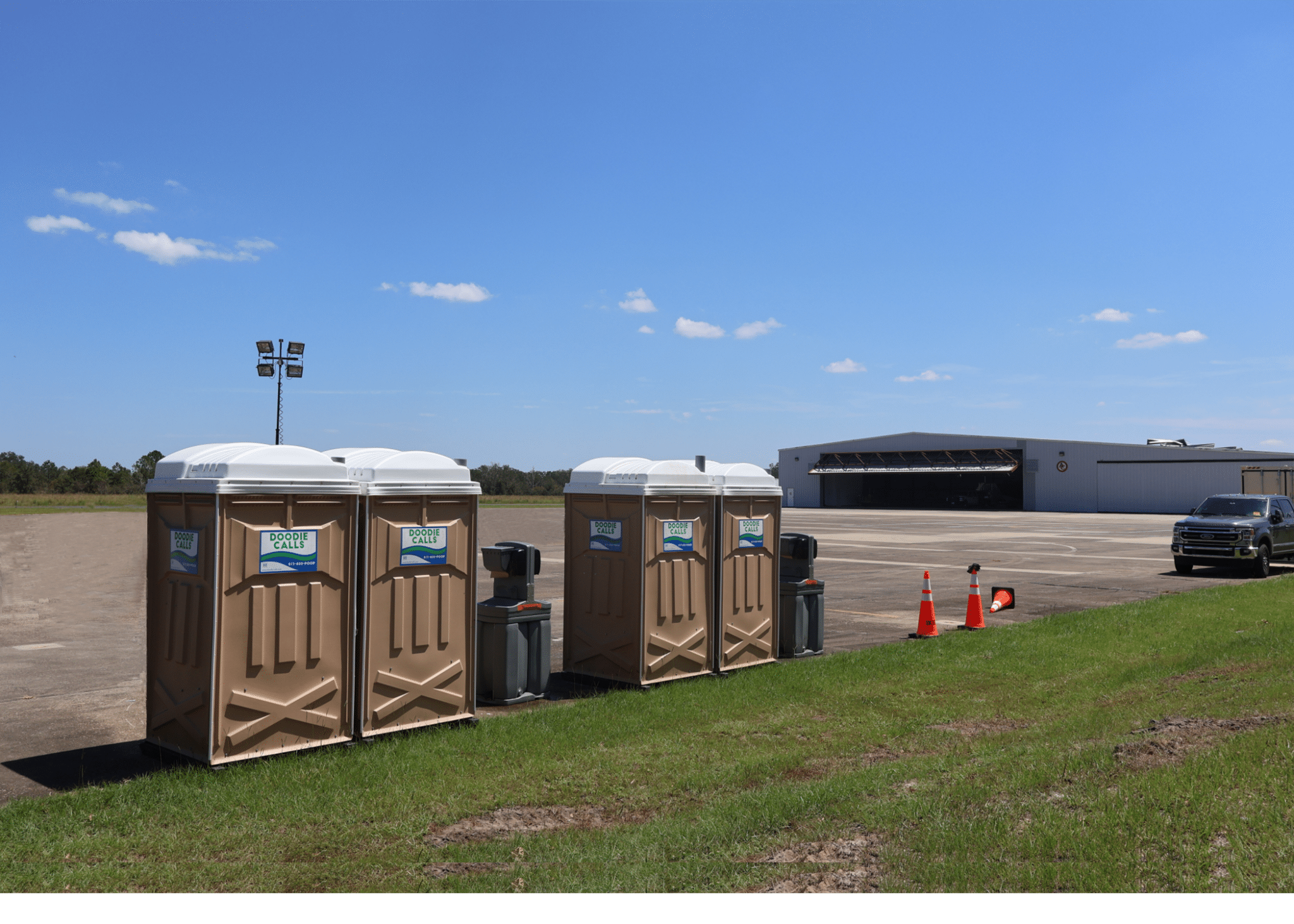 Standard Units are ideal for any size or type of event including concerts, festivals, weddings, parties, and other outdoor occasions. All of our Standard Units are like-new and have never been on a construction site. Each standard unit is spacious, well ventilated, completely private and is designed to accommodate 150 average uses. All units are delivered clean, sanitized and ready to use

Special Events and Outdoor Weddings
Make your outdoor weddings and special events truly exceptional with Doodie Calls' extensive range of options tailored to fit your unique needs. Our friendly customer service team is ready to offer expert advice and help you find the perfect fit for your special event or outdoor wedding.
Portable Laundry Facilities
Doodie Calls: Your go-to laundry solution during disasters. Our state-of-the-art trailers offer clean and fresh laundry facilities, even in disaster zones. Wash and dry with ease when you have nowhere else to turn.
Let Doodie Calls help keep your special event clean and fresh with our portable shower trailer options. These shower stations will give you and your guests a place to shower in comfort.
Luxury Comfort Stations
Doodie Calls offers several different options for upscale mobile restroom trailers. These air conditioned units will bring the comfort of home to your wedding or special event. With separate men's and women's stalls, flushing toilets, sinks, and interior/exterior lighting these trailers are the perfect addition to your next event.
Hand Wash Stations
Let Doodie Calls help keep your special event clean and fresh with separate Hand Wash Station options. These stations will give you and your guests an alternative to the traditional hand sanitizer dispenser that comes standard in all of our special event portable toilets. This eye catching hand wash station is equipped with four sinks to allow for quick use for special events. The sink has a separate fresh water and grey water tank and the fresh water is dispensed through the faucet with a foot pump at the base of the station. Paper towel and soap dispensers are always stocked to ensure that your guests have everything they need.
To receive a timely estimate, kindly complete the form provided below. Our exceptional customer service team will promptly review your submission and ensure a response is delivered to you within 24 hours. Thank you for choosing Doodie Calls.
Doodie Calls offers a variety of clean, portable restroom, shower facilities, and laundry trailers options for special events, construction sites, outdoor weddings, disaster relief, and more.